Do you plan to take the Cisco Collaboration SaaS Authorization Exam shortly? You want to learn about Cisco's Collaboration SaaS tools and develop a career in this domain. Given the expanded focus on Software as a Service, more candidates are interested in taking this evaluation. On the other hand, thinking it is pretty challenging, many test-takers think twice before taking the Cisco 700-680 exam as they are not sure whether it is worth the effort.
Practicing for Cisco exams already appears vexing enough, not to mention the Collaboration SaaS Exam, which is on a whole new level of complicated. Think again if you are ready to take this Collaboration SaaS Authorization (CSaaS) exam.
Why Cisco 700-680 Certification Exam Is Worth the Effort?
Before we move to the advantages of the Cisco Collaboration SaaS Authorization Exam, let's quickly look at its main details. This test is mainly designed for Account Managers and Presales engineers who like to effectively validate their knowledge of Cisco's Collaboration SaaS solutions to sell these cloud-based services. The evaluation is a need for the Cisco Collaboration SaaS Authorization Program. The Cisco 700-680 exam consists of 35-45 questions you need to answer in 30 minutes, and it is available in English and Japanese.
Read the following paragraphs and find the top reasons to convince you to register for the Cisco 700-680 certification exam. So, why do you need to consider taking this Cisco 700-680 exam? Find out below:
1. Validation of Your Skills in SaaS Solutions
700-680 exam validates your skills on multiple topics. If you take a quick look at the test's blueprint, you will discover that it helps you get a clear overview of Webex Meeting solutions. Furthermore, this exam shows your understanding of how Webex Meetings, Webex Edge, Webex Devices, and Webex Teams work. Finally, this assessment is the right path to choose if you want to learn about the Collaboration Flex Plan and get a comprehensive understanding of Webex Try and Buy, SmartAccounts, and Ordering features.
2. You Keep Up with the Market's Trends
Organizations worldwide are in the process of transitioning toward the Software as a Service infrastructure. Therefore, they look closely at Cisco and its solutions that help them promote collaboration and improve performance. Thus, by taking the Cisco 700-680 exam, you will consolidate your knowledge in this field and gain an international badge that distinguishes you from other candidates. Also, you add a popular Cisco Collaboration SaaS Authorization Exam Certification to your resume that suggests you for some of the most demanded jobs today.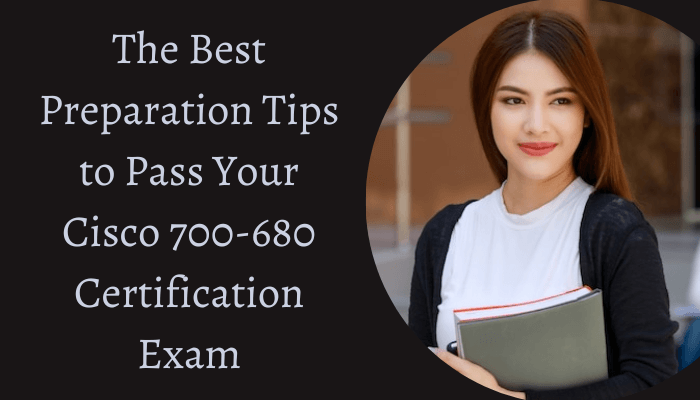 3. Improve Self-Confidence
Not all candidates who register for the Cisco 700-680 exam manage to get a passing score on the first try. So, if you manage to pass it from the first attempt, you will become part of an exclusive group of individuals who have reduced knowledge of tools and can work on complex tasks. When your self-confidence level reaches the highest limit, it will become easier for you to access the jobs of your dreams and negotiate a motivating offer with recruiters.
Study Tips to Success on the Cisco 700-680 Exam
Most of these steps are apparent, and you do not require to spend much time on them. However, a few are more critical to achieving success on the Cisco Collaboration SaaS Authorization Exam. These things will aid make your study experience a little less drag, and the steps below will help with this goal.
The first thing you need to do is go over the Cisco Acknowledgements section in depth. This is where you find all the references and resources for each topic in Cisco Collaboration SaaS lab classes. This section is essential because it will allow you to reinforce what you have learned in your Cisco 700-680 training materials.
You should do is watch a few online videos. While there is not anything that can directly aid you in passing the Cisco examination, watching several tutorials or videos can help improve your confidence
The Internet is an excellent resource for 700-680 study material. It would be best if you always used it to gather information because it is fast, easy to navigate, and free of charge. If uncertain which study guide is right for you, try some sample questions before buying. It is better to be safe than sorry and take advantage of Cisco 700-680 mock tests before investing in a product that might be a waste of money and time.
The last thing you should do is watch a few online videos. While there is not anything that can directly benefit you to pass the Cisco examination, watching several tutorials or videos can help improve your confidence. If you find them too dull, find an excellent online resource with more active learning.
There is no doubt that the Cisco Collaboration SaaS Authorization Exam will test you to the fullest. By preparing in advance and using the tips above, you will provide that you excel on the Cisco 700-680 examination.
Conclusion
Taking the Cisco 700-680 mock test is definitely worth the effort. It helps you stay updated with the latest trends and gets you closer to earning an internationally recognized Cisco certification. Besides, during the preparation process for this test, you will gain more confidence in your capability to learn new things and develop the essential skills that will enable you to become a valuable team member for organizations interested in transitioning to SaaS solutions.
This is the best time to be bringing your pieces of equipment ready for the Collaboration SaaS Authorization exam day. 700-680 mock tests are the most important equipment of all. No day is sooner than necessary somewhat; the sooner, the better. It gives you more time to prepare for the Cisco exam and boosts your chances of making the most of your time.
Start your Collaboration SaaS practice today, so you do not miss out on anything.