Cisco is a top-notch provider of IT certification, offering a diverse range of globally coveted certificates. Though Cisco encompasses numerous crucial sectors of Information Technology, its Cisco Certified CyberOps Associate Certification, abbreviated as Cisco 200-201 CBROPS, imparts foundational knowledge in cybersecurity and confirms your fundamental skills.
Let's explore some important details and advantages of taking the Cisco CyberOps Associate 200-201 CBROPS Exam, which is intended for individuals who are new to the field of cybersecurity.
Information About the Cisco CyberOps Associate 200-201 CBROPS Certification Exam
The Cisco CyberOps Associate 200-201 CBROPS exam provides important knowledge and understanding of the cybersecurity field. It consists of 95-105 questions in English that must be completed within 120 minutes. The exam is officially called 'Understanding Cisco Cybersecurity Operations Fundamentals' (CBROPS) and requires a registration fee of $300. Upon passing the exam with the minimum required grade, as outlined by the guidelines, the candidate will be granted the Cisco Certified CyberOps Associate certification.
Skills Evaluated in Cisco 200-201 CBROPS Exam
Achieving certification for the Cisco CyberOps Associate 200-201 CBROPS exam designates you as an expert who has fully grasped the specific topics covered in the test. This indicates that you have exceeded expectations in understanding the following subjects:
Security Concepts
Security Monitoring
Host-Based Analysis
Network Intrusion Analysis
Security Policies and Procedures
It is essential to have a thorough understanding of the exam objectives and structure of the 200-201 CBROPS test if you aim to achieve high scores. The questions in the test will typically be in a multiple-choice format. Generally, it can be challenging to obtain excellent grades in the Cisco 200-201 CBROPS exam. However, if you study properly using the reviewed and approved resources, failing should not be a concern. There are online courses provided by Cisco and various study guides available that can offer detailed guidance for preparing for and passing this exam.
Advantages of Earning Cisco 200-201 CBROPS Certification
While many certifications provide similar knowledge, people tend to prefer this particular certification over others that are equivalent. Let us examine the advantages of holding a 200-201 CBROPS certification.
1. Gives You Top-Notch Expertise
With this certification, you will acquire the ability to detect and respond to security threats, which are essential skills for launching your career in cybersecurity.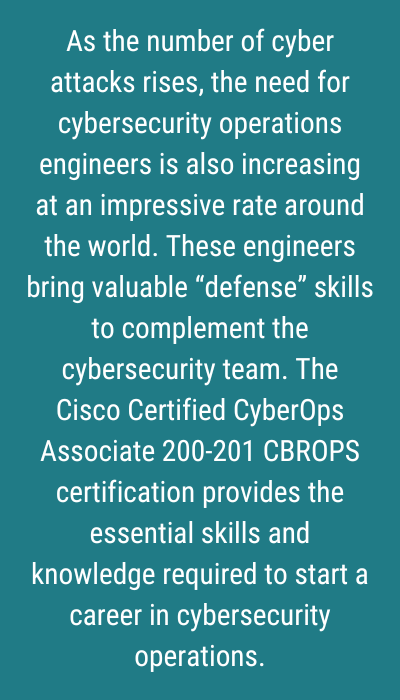 2. Cisco 200-201 CBROPS Certification Can Give Your Resume an Extra Edge
In every job interview, you strive to stand out from other candidates. To increase your chances of qualifying for an interview, you must showcase exceptional skills in your resume. Adding the CBROPS certification to your curriculum vitae provides an extra advantage and sets you apart as a superior candidate.
3. Cisco 200-201 CBROPS Certification Can Be a Significant Confidence Booster
Lack of confidence can be a hindrance to a fresher in their field of expertise, which can negatively impact their interview and career prospects. However, the Cisco 200-201 CBROPS certification can provide an excellent foundation in the realm of cybersecurity, instilling the confidence required to succeed in a job.
4. Cisco 200-201 Cbrops Certification Holds Worldwide Recognition and Verification
The CCNA 200-201 CBROPS certification is widely accepted and in high demand worldwide. It is a verified credential that attests to your expertise and knowledge of cybersecurity, making it one of the best certifications to obtain in this field. By earning this certification, you demonstrate your mastery of the essential concepts and skills required to succeed in the cybersecurity industry, setting yourself apart from your peers and positioning yourself as a valuable asset to any organization.
5. Cisco 200-201 CBROPS Certification Accelerate Your Career Growth
If you obtain Cisco 200-201 CBROPS certification, it can serve as a solid foundation or launching pad for your Cybersecurity career, particularly in the field of cybersecurity operations. With the increasing job opportunities in the IT industry, having this certification could give you an edge over non-certified applicants and increase your chances of being hired. This is because Cisco-certified professionals are highly valued and sought after, and having this certification can demonstrate your expertise and competence in the field.
6. You Can Demonstrate Your Qualifications and Abilities to the HR Manager Through this Certification
HR managers often rely on certifications to assess a candidate's skills and qualifications when shortlisting candidates for recruitment. Certifications serve as a measure of a candidate's abilities relevant to the job. Obtaining the Cisco 200-201 CBROPS certification demonstrates that you have the required skills and knowledge to efficiently perform the job and achieve excellent results. In a recruitment process, having this certification can give you an advantage over other candidates who lack such qualifications.
7. Cisco CBROPS Certification Confirms Your Problem-Solving Skills
In the real work environment, the challenges you encounter will be different from what you learned in theory. The actual work demands a creative and problem-solving approach. By preparing for the Cisco Certified CyberOps Associate exam, you will be equipped with the necessary skills to handle such situations. With continuous practice and exposure to real-world examples, you will learn how to apply the principles you have learned in practical scenarios.
Earning the certification indicates your ability to effectively communicate your problem-solving skills and knowledge and utilize them in the workplace. It demonstrates your proficiency in identifying, analyzing, and responding to cybersecurity threats.
8. The Cisco 200-201 CBROPS Certification Can Lead to a Substantial Increase in Salary
Individuals put in effort, finances, and time to enhance their career prospects. The Cisco CBROPS certification on your resume makes it effortless to secure a high-paying and esteemed job. The demand for cybersecurity professionals is increasing due to the expansion of the IT industry. Upon acquiring the Cisco 200-201 CBROPS certification, candidates are eligible for associate-level job roles. According to salary reports, the salary scale ranges from $67,027 annually to an average of $75,005.
Conclusion
The Cisco Certified CyberOps Associate certification offers more benefits than other similar certificates and is considered a must-have certification, particularly given the increasing challenges in the cybersecurity industry of the IT sector. As Cisco is a globally recognized organization, being certified by them will make you a valuable asset to your company or organization.
Strive to achieve this certification, successfully pass the Cisco 200-201 CBROPS exam, and get ready to receive significant recognition!